Welcome!
We meet in the community room Mondays at 5:30 PM and Wednesdays at 10 AM. Heather Ellis, E-RYT500, leads a 45 minute class. Bring your mat and your optimism. Yoga for both beginners and experienced.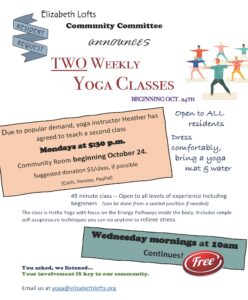 Click to expand the flyer
Below is a video of a special class that introduces acupressure.
Heather places acupressure into a broader context of yoga
and demonstrates a number of acupressure points.
Heather provides a yoga workout you can do,
when you can't join in person or want a different routine.
Learn how to do Sun Salutations step by step in this 9 minute video, beginner level.
Practice 8 consecutive Sun Salutations to warm up the body
and get the energy flowing in this 9 minute video.
For people who would like to practice seated in a chair:
Chair Yoga for beginners #1 – Arm Stretches – 12 minutes
Chair Yoga for beginners #2 – Hip Stretches – 10 minutes
"Extreme Yin Heart" class – A 45 minute video with some acupressure at the beginning,
and then 2 long holds – 5 minute sphinx and 5 minute camel.
If a student is unable or uninterested in holding these poses for 5 minutes,
I recommend coming into the pose, following the class, and then
release it when you need to, sit with eyes closed and concentrate in the Heart.